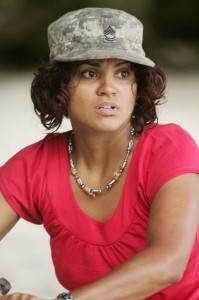 Did you miss the penultimate episode of Survivor: Heroes vs. Villains? Then catch up with a recap here.
The first of Survivor's three finale hours begins with the Top 5 returning to camp after ousting Rupert. Russell tells Sandra that using the idol was worthless as all she did was prove that she was lying. She should have told the Villains that she had the idol. Sandra tells Russell, correctly, that when he found an idol, he certainly didn't run back and tell the rest of his tribe. Further, Sandra is not the type of person who can be micromanaged, and certainly not be the likes of Russell. Parvati swears to Russell that she didn't know Sandra had an idol. Russell then begins plotting against Parvati with Jerri, but Parvati doesn't care. The next morning, the tribe receives Tree Mail in the form of a bag of pieces and a note saying that the players don't want their "dishes to shatter." Russell hopes to take Jerri and Sandra to the Top 3, so he needs to make sure Parvati doesn't win…
To Read More Click Here.