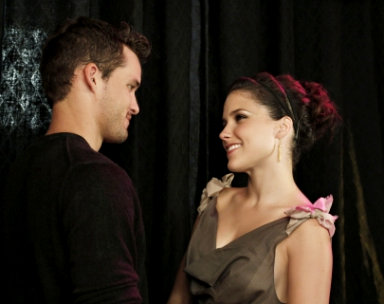 After a one-week hiatus, the One Tree Hill gang is back, and while one couple stays stronger than ever, three others seem to break further apart.
Nathan works with his agency, minus Clay, and a deal is coming in. But during the meeting, Nathan and Haley find out it's to play overseas in Spain a way for Nate to improve his game and come back to the NBA a year later. Not quite the deal they were hoping for. And for Haley, this new option may hurt her career in the short-term. When she suggests to Miranda that she finish her album in Spain, Miranda tells her that they've scheduled a tour to support the new album and if she doesn't go through with it, she'll break the record contract. But when Haley asks Nathan what he's thinking, he tells her that they should go to Spain. Nate believes if he were to sit out of the NBA for a year, he wouldn't make it back, while playing overseas during that time, will ensure his return. After talking everything over with her sis, Haley tells Nathan she's not going on tour because she wants him to have his dream. But Nathan already mapped out the tour for her, with every great stop along the way, and wants her to have her dream as well. Aww.
Meanwhile, Clay suits up, and although he lost all of his clients, he's got one that he swears will be the best quarterback in the NFL in four years time. But that glimmer of hope dims when Clay finds out that his old agency is already poaching his one and only client. So he gives up, and when Quinn walks home to find Clay packing up to leave she asks, "Do you think Sarah would let you quit? What would she say?" "Nothing, she's dead," he responds.
Even though Brooke wouldn't take Millie's call from jail, she goes over to Mouth's the next day to check in on her. But when she's not there, Brooke drops the bomb that she had been arrested the night before. The person to bail her out, is the same person who called the cops on her: Victoria Davis. Millicent gets out of jail, goes home, and when Mouth finds her asleep, he starts saying how he misses the old Millie and wants her back. "I still love you, Millicent," Mouth says as he walks out the door.
Just when we thought Millicent hit rock-bottom and would get help, she runs over to Alex's hotel room looking for the rest of her cocaine. Alex gets to it first and flushes it down the toilet but Millie can't see that she's trying to help her. Instead she continues to act like a queen be-yotch and tell Alex, "You're just some washed-up actor too dumb to realize you're chasing a boy who doesn't want you." Ouch.
Millicent is determined to score coke, so she goes and sees Miss model/druggie who proceeds to give it to her. But she then reminds Millie that she now owes 600 bucks. Of course she doesn't have that kind of money laying around, so as a trade, model/druggie asks Millie to get the Clothes Over Bros red dress the dress that has yet to be revealed as part of the new line.
Skills is making a reel to send to the L.A. company that hires sports consultants. Jamie suggests they use his favorite movie White Men Can't Jump to shoot the reel, and after a cute little reenactment of the film, Jamie gets upset when he learns his best bud may be moving. Interesting how Lauren didn't seem to say anything. Are they going to break up? Skills then says to a down-and-out Mouth that he has to promise that if Skills get this job in L.A., he'll go with him.
To Read More Click Here.