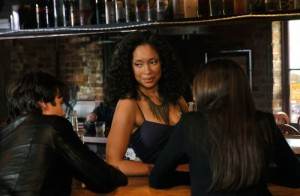 OMG!!!!! Talk about being in rehab and having your first hit after two months of soberdom!!!! The Vampire Diaries is BACK, PEOPLE!!!!!!! We got a lot of mythology thrown at us tonight and things are getting deep! I didn't jump out the window tonight, but I damn near jumped in front of a car flying down the street!
The Road Less Traveled…
We pick up right where we left off with Elena hanging upside down in her car as the creepy hooded figure comes for her. As soon as he reaches in the car and Elena screams, he super speeds away! WHAT?!?!??!??!
But as soon as Elena (and myself) calms down, Damon super speeds to the car, scaring the crap out of Elena (and myself). He helps her out the car and checks to see if she has suffered any major injuries, which she hasn't. Elena then murmurs, "I look like her…" before fainting. Damon gets an idea as he totes her off…
Elena awakes to find herself riding with Damon in his car. She asks where they are and Damon responds that they are in Georgia. Elena tries to recollect what happened the night before, including the creepy hooded guy, who's identity Damon would like to know as well. Elena starts to panic and wants Damon to pull over so she can call her Jenna and tell her folks where she is. Damon reminds Elena that he can make her agreeable, especially since her vervain necklace is gone. Elena's phone rings, which Damon has, and it's Stefan wanting to know what happened to Elena for Damon to have her phone. Damon toys with the both of them, but sees the Elena really doesn't want to talk to Stefan now, so Damon ends the call. Stefan notices Elena's necklace on his desk and panics. Meanwhile, Damon talks Elena into hanging out with him and to step out of her life for awhile, because the only thing waiting back home is her problems, which she needs a break from. Elena relents.
To Read More Click here.