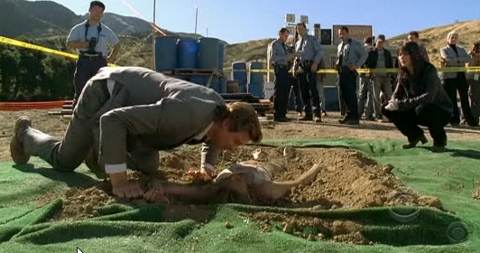 The Mentalist "Bleeding Heart" begins with Agent Teresa Lisbon (Robin Tunney) and consultant Patrick Jane (Simon Baker) being interviewed by a camera crew in the CBI office. Both look uncomfortable, but Jane seems extremely uncomfortable, and after being asked why there's no such thing as psychics, Jane leaves the interview. Lisbon isn't happy with the camera crew either, but the bureau's PR rep lets her know that they need to do some polishing of their public image after the devastating deaths of Bosco and his team inside the CBI building.
Lisbon allows the crew access to the office and bullpen, but not the crime scene. The team is investigating the murder of the mayor's aide, who was found when the mayor herself broke ground in front of the cameras for a new development project. When they interview Mayor Melba Walker Shannon (Sharon Lawrence of Privileged and NYPD Blue) and her assistant Wilson (Firefly's Sean Maher), Jane notices immediately that the mayor seems uncomfortable talking about the victim. When he presses, the mayor asks them to leave.
A possible perpetrator of the crime is an environmental group led by a man named Jasper. Though they've burned down buildings on protective land and other drastic measures, they haven't committed any murder in their past history. Rigsby and Cho pay a visit to the foreman on the building site where the aide's body was discovered, but while they're questioning him, the trailer gets firebombed and the door jammed. The foreman is injured and Rigsby and Cho barely make it out with him before the place burns up. It's clear to them that Jasper is escalating in violence.
To Read More Click here.