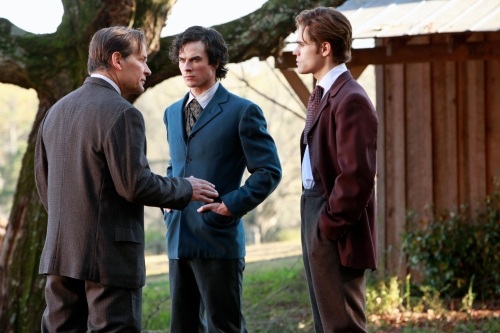 Where do we even begin this week?
In one of the most dense episode of the season, The Vampire Diaries viewers learned why Damon holds such a grudge against Stefan; discovered a great deal about a new character on the show; and even got to witness Stefan and Elena in bed.
It was a sexy, engrossing, suspenseful, educational hour of television. Catch up on "Children of the Damned" via our detailed recap and join us below for an in-depth review of the episode...
How great is Nina Dobrev as Katherine?!? The actress made us forget about Elena during the opening scene. Whether Dobrev has been consulting with Ian Somerhalder for tips on how to act evil is unclear, but this much is not: she relished taking on such a new, different role. It was also startling to see Damon as a hesitant, fearful vampire. It makes us realize how events have changed him so much in the last 135 years.
And how did those events begin? We got to actually see Damon and Stefan during the height of their affection for Katherine. True to the modern-day situation, the former brother was clearly more smitten with this mysterious brunette than his sibling. Somerhalder made us truly feel Damon's pain when Katherine was taken away, but we have two questions that resulted from these flashbacks:
To Read More Click Here