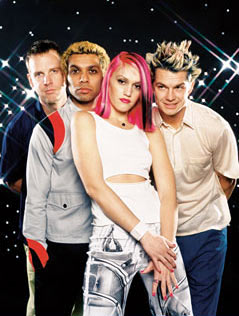 "Gossip Girl" is spinning its fortune this year. Apart from being stretched for a spin-off, the show is also taking order for the third season. And, in another dose of good news, the series about the Upper East Siders will welcome one of the biggest reunited acts this year to the show.
Posting on their official site, No Doubt announce that they will appear in an episode of "Gossip Girl" later this season to perform "Stand and Deliver", the song originally belonging to Adam and the Ants. The episode is May 11, which may as well be the one episode before the season finale. The second season is airing for 25 episodes, which if counted, will end on May 18.
Members of No Doubt are getting back together after five years of hiatus, announcing their national tour on Wednesday, February 25. Supported by Paramore among others, the band will take over 44 venues across North America.
On another "Gossip" news, it is now confirmed that Michelle Trachtenberg is back as the evil Georgina. However, to E! Michelle hints that she is not the same old same old. "I think there are definitely evil elements that Georgina can never leave behind, but you will be seeing a different, let's say reformed, side of Georgina," she reveals.