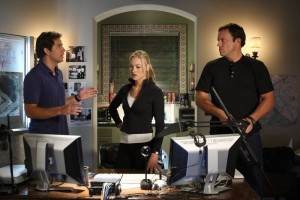 Hello Chuck fans. Sunday night gave us the Season Three premiere of our favorite accidental spy. If you don't quite remember where we were before the premiere, check out this summary. Otherwise, let's get into "Chuck vs. the Pink Slip."
"Pink Slip" opened with a replay of last season's finale and Chuck showing off his new-found kung fu expertise. Cut to six months later in Prague. Chuck, or rather his super spy alias Agent Carmichael, is being interrogated by a group of toughs. Chuck wants a silver case one of the henchmen is holding. When his request is unsurprisingly refused, he hears General Beckman in his ear imploring him to flash and get out of the situation. Chuck flashes his kung fu ability and disarms the men. When told to shoot the head bad guy, he hesitates, stating he is not a killer. Ignoring every action movie cliche, the previously knocked out henchmen actually wake up! Chuck knocks them all out again, grabs the case, and escapes. Now up on the roof, his only escape is to zip line across the courtyard using his belt. Despite the General's pleas to flash the knowledge of how to zip, he hesitates again. The bad guys catch up to him and put him dead in their gun sights. Just before his life is about to end, a blaring light illuminates the night sky and General Beckman walks out. Chuck has failed his training session. His inability to call forth his flashes has left him, literally, with his pants down (well, that's what happens when you use your belt for a zip line!).
It seems this is not the first (nor probably tenth) time Chuck has flunked his super spy training courses. The General has had enough of Chuck's inability to control his emotions and let the Intersect do its thing, so she is crashing him out of spy school. Chuck protests, "You don't know what I said no to," and we are treated to a flashback of Sarah plotting their escape to a normal life. She wanted to run away with Chuck and be a "real person." Sarah told Chuck to meet her at a train station in Prague where she would be waiting with new idenitites, passports and lives. Obviously, Chuck turned her down as he has been training for the past six months. Now a failed spy, Chuck tries to call Sarah. As her phone rings, Sarah is getting out of a pool. A man reclining in a poolside chair (and who affectionately calls Sarah "Honey") tells her that her phone is ringing. She sees that it is Chuck, and throws her phone in the pool.
To Read More Click Here