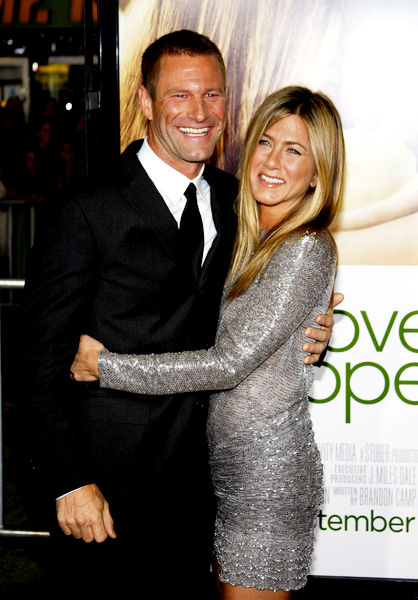 Three days prior to the theatrical release of "Love Happens", Universal Pictures presented the world premiere of the romantic drama. The red carpet event took place at Mann's Village Theatre in Westwood, Los Angeles on Tuesday evening, September 15, and was highlighted with the arrival of celebrities.
Leading actors, Aaron Eckhart and Jennifer Aniston, were present. Bringing in the Hollywood glamor to the red carpet, the two dressed to impress. Eckhart donned black tie suit, while his on-screen lover Aniston wore silver mini dress. They were joined by other cast members, Dan Fogler, John Carroll Lynch, Anne Marie DeLuise, Sasha Alexander, Panou and Tyler McClendon.
The cast were not the only representative from the movie on the special night. Director/co-writer Brandon Camp, co-screenwriter Mike Thompson, producer Scott Stuber and composer Christopher Young were also spotted attending the premiere. The celebrity guests, in the meantime, included "Watchmen" actress Malin Akerman and TV personality Terri Seymour.
"Love Happens" revolves around a widower who is reinvented into a self-help guru after his book about grieving turns him into a phenomenon. Arriving in Seattle to teach a sold-out seminar, he unexpectedly meets and falls for a florist coming across his seminar. Now, he is forced to confront the fact that he hasn't come to grips with his own loss. This flick is set to be released in the U.S. this Friday, September 18.