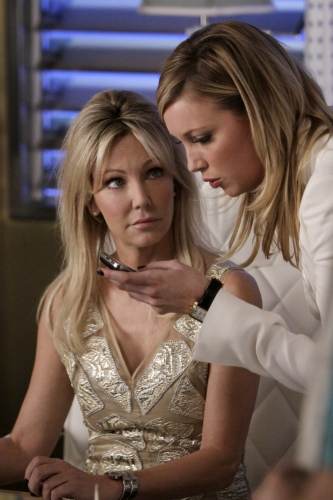 OH. MY. LORD!!!!!!!
The CW. If You Don't Renew Melrose Place I Will Release The Kraken. 2012. The Cloverfield Monster. Godzilla. ANYTHING That I Can Find On Your ASS So Tough That You Will Wish Like Hell That You Would Have Never Formed As A Network To Begin With!!!!!
On to the recap.
Morgan aka The Thorn in David's Side aka Violet's Even Crazier Replacement
David is close to mending things with Lauren, but who decides to pull a Violet? Morgan. She thinks its best to have David meet her father and introduces him as her new boyfriend. Don't remember when they decided to be a couple? No? Well, neither does David. But Daddy Dearest makes it clear to David that he loves it when his daughter is smiling and tends to get homicidal when she's not. Either way is not good for David now, especially when Coal is about to have it's big reopening. Before the opening, Morgan decides to drop through and rave about David being her boyfriend and you can't help but think that this girl has a screw or two loose in the noggin. David lays the law down with her about the boyfriend nonsense, but she thinks that if she has to go up to a slut then so be it (Morgan heard about Lauren's confession).
To Read More Click Here