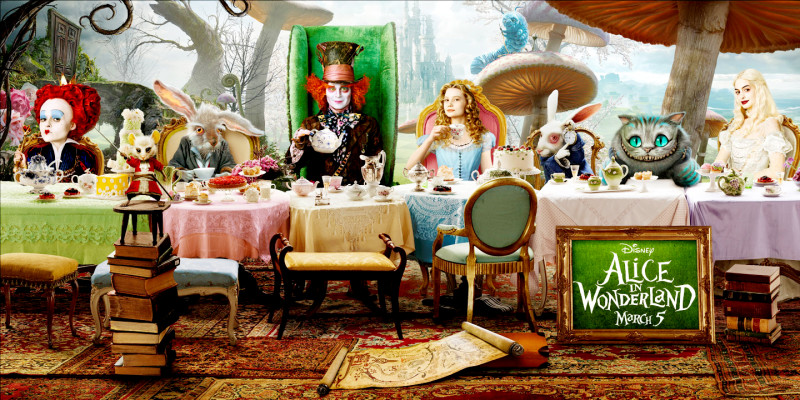 Walt Disney Pictures has just released some fresh images from Tim Burton's upcoming adventure film "Alice in Wonderland". Coming out from different sources, the new photos give a good look at some of the film's characters.
In the image that was found by Joblo, Alice, the Mad Hatter, Red Queen, White Queen along with some creatures from the fantasy world are all seen sitting down to tea. Then, some wallpapers released by Disney capture the White Rabbit, the March Hare, the Dormouse and the Cheshire Cat individually.
Mia Wasikowska takes lead female role of Alice while senior actor Johnny Depp stars as the Mad Hatter. Anne Hathaway and Helena Bonham Carter also join the cast ensemble to portray the White Queen and the Red Queen respectively. Meanwhile, Michael Sheen, Paul Whitehouse, Barbara Windsor, and Stephen Fry will lend their voices for the film.
Expected to come out in Disney Digital 3-D on March 5, 2010, "Alice in Wonderland" is said to be an epic 3-D fantasy adventure which gives a magical and imaginative twist on some of the most beloved stories of all time. The story follows 19-year-old Alice who returns to the whimsical world she first encountered as a young girl, reuniting with her childhood friends. This time, she embarks on a fantastical journey to find her true destiny and end the Red Queen's reign of terror.