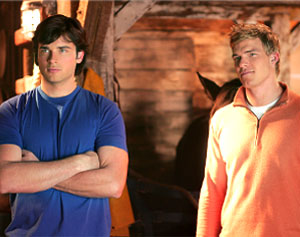 Remember Smallville's "bubble-gummy" Justice Leaguer Aquaman?
Well, sorry to break it to you, Kryptonites, but Alan Ritchson (aka Arthur "AC" Curry) just got word that his superhero alter ego will be, um, diving back into the CW hit's 10th and final season - and that the, um, bubbly character we once knew is no more...
"It's supposed to be a lot darker this year," Alan told us at Sunday's MTV Video Music Awards, "which I'm so excited about."
Which means Smallville fans should get excited, too!
Explains Alan: "Aquaman is such a bubble-gummy type of character [who] doesn't get a lot of respect as a superhero, so to be able to come and play a darker side is going to be a lot of fun. He's a limited character - as far as needing a lot of water around - but there are ways to justify it. Plus, I like to think of him as quite a cool superhero, and having the chance to go back for the final season [of Smallville] is huge." Agreed!
Are you excited about the return of Alan...and Aquaman?! Are there any other old Smallville faves you're still crossing your fingers will return - besides Lex Luthor (Michael Rosenbaum), which, it goes without saying, is a must!
Smallville's 10th and final season premieres Friday, Sept. 24, at 8 p.m. on the CW.