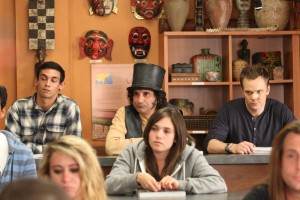 School is back in session for a highly anticipated season opener at everyone's favorite community college, Greendale. We concluded an A+ freshman season with Britta and Slater publicly declaring their love for Jeff who, moments later, found himself kissing Annie. It's been intriguing wondering how the study group will tackle this chain of events come Season 2.
The episode opens with each study group member waking up on the first day of class - my favorite being Troy getting out of bed and striking a heroic pose in his Spiderman pajamas (Donald Glover announced in the off-season that he'd like the chance to audition for the role of Spiderman).
On campus, nobody has forgotten what happened at last year's Transfer Dance. The dean even includes Britta's embarrassing proclamation in his morning announcement. Pierce and Troy, now roommates, walk through campus and we find that Troy has developed a twitter page - Old White Man Says - discussing all the humorous/absurd things Pierce says (clearly parodying "Sh-- My Dad Says," which is now a Thursday night sitcom on rival network CBS). In the study room, Britta emerges from the couch where she has been hiding from the catty girls on campus who seem to be talking about her behind her back. Once in the open, though, Britta discovers that she's actually "the coolest girl in school" for her courage to declare her love in public.
To Read More Click Here.