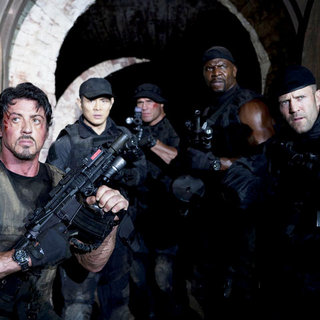 Lionsgate Films has released the first clip for "The Expendables" which has star-studded cast ensemble. Titled "Boat Gunfight", the age-restricted video highlights the scenes in which Sylvester Stallone and his partners are facing several men who point their guns to hostages.
The film centers its story on The Expendables who are hired to infiltrate a South American country and overthrow its ruthless dictator after years of unspeakable corruption that concludes with tragedies. Led by Stallone's Barney Ross, the group of mercenaries consists of Jason Statham's Lee Christmas, Jet Li's Yin Yang, Terry Crews' Hale Caesar and Randy Couture's Toll Road.
Once the mission begins, the men realize things aren't quite as they appear, finding themselves caught in a dangerous web of deceit and betrayal. They later begin to learn that their true enemies are rogue ex-CIA operative James Monroe (Eric Roberts) and his henchman Paine (Steve Austin).
To Read More Click Here.