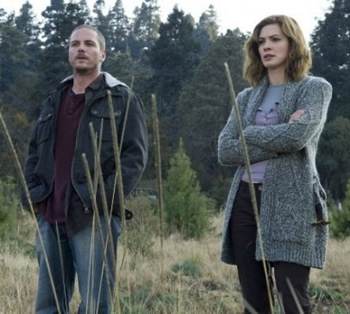 If you missed last week's episode of Persons Unknown, read the recap here.
"Saved" opens with the town trashed and the winds a-blowin'. The images are blurry, as Joe walks out into the square. He sees Tom, and, as Tom is dead, Joe asks his old friend if he is dreaming, or worse, if they are both dead. Tom assures Joe that he is not dead; rather, Joe "has been saved." Joe's reaction is perfectly summed up by his reaction: a loud, long, bellowing "Noooooooooo!!!!!" Joe wakes up strapped to a surgery table with a shaved head, and a melange of wires, tubes and sensors attached to his body. A disembodied female voice says over a speaker that things have gotten off track with Joe. They need to "fix" him, and unfortunately, it's going to hurt. In the hotel, Janet tears apart Joe's room, searching for any clue that will lead to his whereabouts. Erika grabs a hold of Janet to stop her. Janet calms down, left with a question on her lips, "Where did they take you?" Back in the white room holding Joe, he stirs to the sounds of whispers (just free them from the Island, Joe!), and is then greeted by the speaker voice again. The voice explains that Joe has two options: 1) he can come back to the Program, or 2) his body won't be able to withstand the "re-education" anymore, and will expire. The voice concludes, "Joe, you know that you can never leave the program." With that, Joe falls back unconscious.
To Read More Click Here.