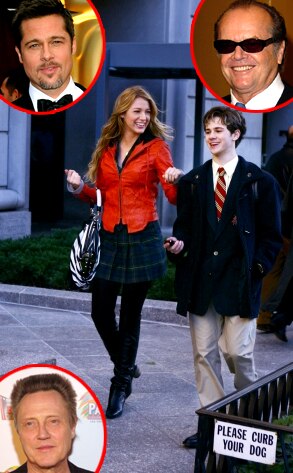 When last we saw our favorite Upper East Siders on Gossip Girl, Serena van der Woodsen was heading to Fiji to find her dear old dad.
The mystery man who fathered the blond bombshell and her brother, Eric, has never really been mentioned-only as an aside in tales of their mom's various husbands and escapades-but it seems likely that he might finally become a living, breathing presence on the show next year.
So with all the other exciting casting announcements this week (Hilary Duff, Joanna Garcia), we got to wondering who might score the paternal part. We exclusively chatted up the van der Woodsen kids themselves, Blake Lively and Connor Paolo, and you'll never guess who they think should fill their papa's shoes...
"Brad Pitt," Blake exclaimed when we asked her about it at the upfronts. "Or maybe [he should be cast] as my new boyfriend."
The beauty's onscreen brother was a bit more realistic. Sorta.
"We've been asking since day one who daddy dearest is, so it'll be good to find out," he told us. "I'd say Christopher Walken could make a great dad. I think he'd be a great papa van der Woodsen. I think [his and Lily's] dynamic would be awesome. I'll push that one. Or maybe Jack Nicholson."
But at age 72, isn't Jack a little old? Maybe he should be grandpa, we suggested.
"I think, with Lily, he could be dad," he asserted.
Point taken.
So what do you think? Are Walken and Kelly Rutherford meant to be, or should it be someone else? Let us know your thoughts-and who you think would be the ideal father figure for Serena and Eric.