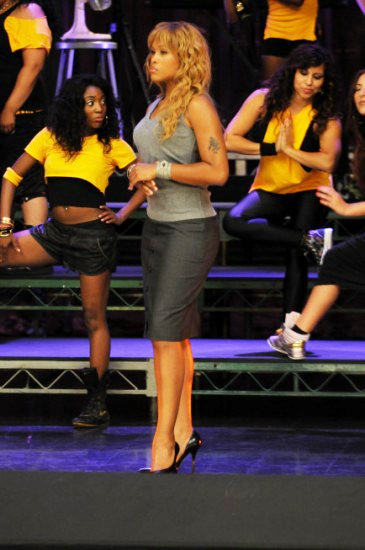 The first look of rapper Eve guest starring in Fox's musical series "Glee" is given in form of episode stills. Eve will play the role of Grace Hitches who is an instructor of a rival Glee club. Concerned that Sue is up to no good, Will pays a visit to Grace to see what information Sue may be leaking, which leads to the club getting a look at their hair-rising competition.
Along with the picture of Eve, there are pictures of "So You Think You Can Dance" season 4 contestants in yellow attire. Katee Shean, Kherington Payne, and Comfort Fedoke will be part of the competing Glee club members. It is not known yet whether they have speaking roles.
The episode is called "Hairography" and it will air on November 25. It also sees Kurt giving Rachel a makeover to impress Finn, but he may have ulterior motives. In an interview with us, Chris Colfer said, "There's love triangles right now, but there's soon to be love pentagons and hexagons. I get added on to the [Puck-Quinn-Finn-Rachel] quadrangle. We go full force: When Kurt fell in love with Finn, why he's in love and what he plans on doing. There's a flashback and it's pretty funny."