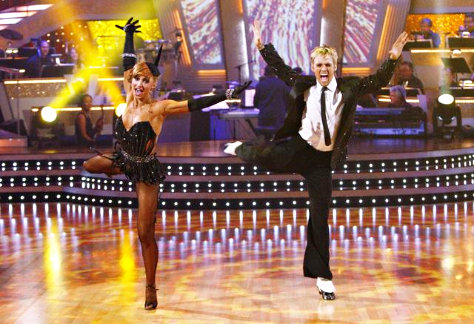 One of the dancers of "Dancing with the Stars" this season has been extracted from the competition to leave four people in the semifinals. Taking the fall in the eighth week would be Aaron Carter and his partner Karina Smirnoff. Carter stumbled when he was required to dance the Foxtrot. He only managed to score 23 out of 30, the lowest number outed on the Monday night performance.
It was between Carter and Kelly Osbourne on the result night, but Osbourne had a slight win from the judge and apparently the audience. Saying goodbye to the competition, Carter said, "One thing that I will always remember from this competition is the lessons I've learned. I've grown some much with your compliments and your criticisms, so thank you. Thank you for helping me be able to grow on this show."
Those advancing to the semifinal round apart from Osbourne would be Joanna Krupa, Donny Osmond and Mya. Next week they will be required to dance one unlearned Ballroom and Latin dance from Weeks 1-6 with a 15-second solo and one more dance which has not been revealed.