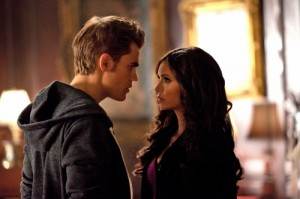 In a Vampire Diaries episode filled with flashbacks - and a curly haired Damon - more answers about Katherine's return were revealed.
It's 1864 at the Lockwood mansion, and while Stefan and Katherine are dancing, Damon and Elena are embracing. Stefan realizes it's his imagination as he walks into the Mystic Falls Café to see Damon and Elena in the present kissing. Still a dream. Stefan finally wakes up in bed with Elena, only it's Katherine and this time it's not a dream. "Why are you back in town?" he asks. "Three reasons: You, you and you," she says.
Mason won't talk to Tyler about how he turns into a wolf other than saying, "Yes it happens and no it won't happen to you." But this isn't a good enough answer for Tyler.
At the Salvatore house, Katherine drinks from Damon's human blood stock as we flashback to Damon toasting George Lockwood for defending the South. The Lockwood gene runs in the Lockwood family and Katherine is all familiar too with their secret. Katherine and Stefan continue to converse, and Katherine asks him why he kept her picture all these years. "You want to know why I came back? Why did you?" she asks. "What is it about you that makes me still care?" he responds. Just as I think they might kiss and I might scream, Stefan stabs her in the back - literally.
To Read More Click Here.