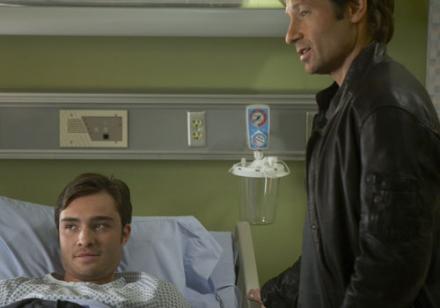 In typical Californication fashion, this episode tackles sensitive topics like rape and suicide with a tactlessness that makes viewers literally LOL in disbelief!
Ed Westwick guest stars in this episode as a depressed, sexually confused, vampire-loving writing student.
Unfortunately, his newly minted orofessor, Hank Moody, isn't really mentor material. Read on for the complete recap of this week's episode, titled "Land of Rape and Honey."
We've listed a few of our favorite Californication quotes from the hour below:
Hank: At least I'm not tucking my dong in class, not with my pants off anyway.
Felicia: Have you taken the sexual harassment seminar yet?
Charlie: If you and I were trapped on a desert island, it would only be a matter of time before I was putting it in your pooper.
Charlie: Can I ask you a question, Sue?
Sue: The answer is yes, I would love a face ride.
Marcie: What are you thinking?
Charlie: Guess I thought it was something you might enjoy. You know, and maybe in the middle, you'd be like, 'God, I really do love this schmuck.'
Marcie: You thought that in the middle of raping me, I'd realize how much I love you?