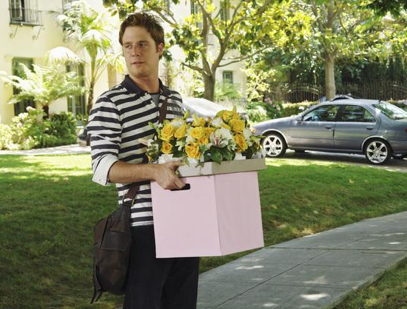 On Greek, it seemed like everyone was feeling a little lackluster - the ZBZ pledges are dragging down the sorority's image, Evan was bummed about needing a new job to pay for his house dues, and Jordan is feeling lost, needing something to look forward to.
Despite the negative tone, problem-solving has never been so easy as at Cypress Rhodes University. Once again Greek delivers a feel-good episode that is sure to lift everyone's spirits.
Check out the latest Greek quotes below:
Evan: You know, I almost punched a guy in there because he asked for more gravy?
Cappie: That sounds like a worthy fight to me!
Casey: We may be November, but we're still July in spirit.
Ashley: Hey, I'm working with a budget here, and it was between a new sprinkler system or the new flat screen TV.
Casey: And you chose the TV?
Ashley: Well, I didn't know it was between our safety and Dancing with the Stars in high def!
Laura: Hell to the no! I'm not in a number 4 sorority!