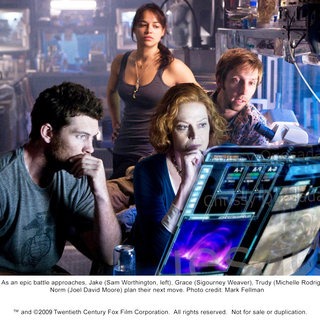 Even before "Avatar" is proven to be a box office hit, James Cameron has stated that there will be a follow-up. The filmmaker has now affirmed that the sequel will indeed be made, but it still waits for the deals to be worked out. " 'Avatar 2'... we're still working on deals. We don't start the movie until we get the deals worked out. I'm making notes. I'm not sitting idle," he tells MTV Movies Blog.
The helmer further reveals that two upcoming "Avatar" films which are planned for the trilogy may be shot back to back. "We're actually talking about that. That's not a decision yet," he says, before adding "That is something that makes a lot of sense, given the nature of these productions, because we can bank all the [motion] capture and then go back and do cameras over a period of time."
While other live action movies could have a problem when filmed back to back due to great demands on the participating cast and crews, the largely CG environments of the planet Pandora makes it more possible because it only requires a smaller commitment. Cameron explains, "The way these back-to-back productions fall apart is that you're trying to do two live-action films back to back, and you're working on it for a year and a half, shooting. Everyone is dead. It's not humanly possible. This type of film, it absolutely would work."
To Read More Click Here.