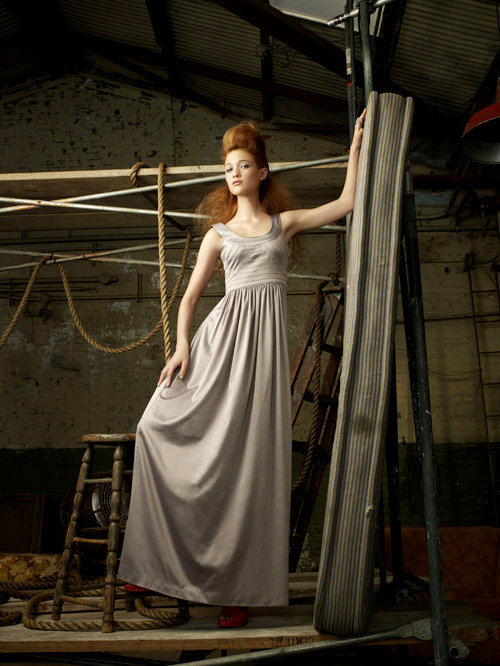 Laura and Nicole made it through the many challenges of this season. Which one of them will walk away with nothing and who will be crowned America's Next Top Model? Read on to find out.
The girls talk about how far they've come. They can't believe two months ago they were in their hometowns and now they're on TV. They seem like the least catty final two of all Top Model seasons past.
Suddenly, a Tyra mail arrives telling them to memorize their lines so the girls study and head to their shoot. Teyana, a previous cycle contestant, drops by to give them some tips. The shoot is for Cover Girl Lashblast mascara.
Nigel is back behind the camera, shooting Nicole while Laura works on the commercial. He says Nicole looked amazing and modeled really well. Her commercial doesn't go as well though. She comes off as snooty, which is the opposite of the Cover Girl vibe.
Laura struggles filming her commercials. Her dyslexia seems to only get worse as she gets frustrated. Jay says she has a good attitude though. After a bunch of takes, she finally gets it right but she struggles to find emotions at the photo shoot.
Ann Shoket stops by to get the girls ready for their Seventeen cover shoot. Gilles Bensimon, a world famous photographer, will be shooting them.
Ann is impressed with their performance and says it's anyone's game at this point.
Back at the house, the girls get another Tyra mail. They start prepping for their runway walk off, when Tyra shows up to give them one-on-one pep talks. Nicole recalls how much of a loner she was and Laura talks about how people doubted her in the past.
Miss Jay informs the girls that Jennifer, Sundai, Brittany, and Erin will also be walking in the fashion show. This is the first time they brought eliminated models back. They will be modeling in elements like wind and rain.
Nicole's walk looks pretty weird but it gets better on her way back. Laura does a good job as well. The changes are so quick. Hair and makeup artists rush to touch them up before they have to go back on.
The second look involves somewhat of a sheer sheet over their heads and lots of wind. It's odd, but looks dramatic. Even the already eliminated girls seem to do well.
The third look is bathing suits with rain. The girls do a good job despite all the elements they have to model through.
It's judging time, and Tyra reminds the girls about the awesome prizes that the winner will receive. It must be tough for them. Even I'm torn between the girls, as they each have different strengths and weaknesses.
In terms of runway walks, the judges were impressed with both girls. Then, as with every season, they go through all the pictures and compare the girls' efforts and results. Both girls have many great pictures. In terms of the commercial, it looks pretty cool when they put it all together. When they are singled out, Laura's speaking sounds odd, and Nicole still sounds snooty to me. Lastly, the photos look great! Both look beautiful and confident.
The judges deliberate, and the results are in: America's Next Top Model is NICOLE!
I agree with Nicole winning Top Model, but I still feel so bad for Laura. Both girls really gave it their all. Their shoots were great week after week, but only one girl could win. I think Nicole will do really well for herself. Are you happy with Nicole as ANTM?