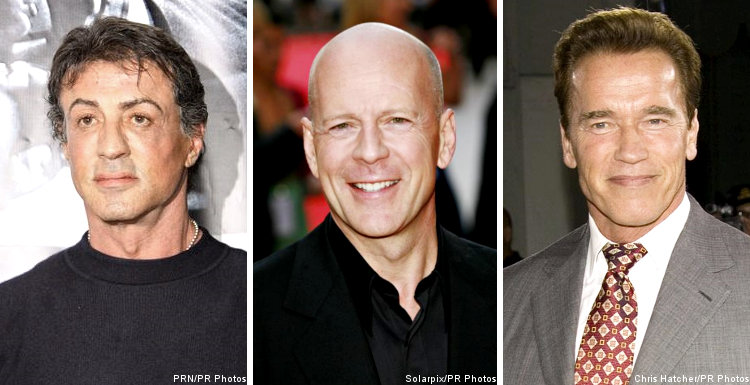 80's action stars, Sylvester Stallone, Bruce Willis and Arnold Schwarzenegger, have got together on October 24 to shoot a scene for "The Expendables", and details on the scene have been shared by Stallone himself. To Entertainment Weekly, the director/writer/star of the actioner provided further info about the characters Willis and Schwarzenegger take on among others.
Confirming that the scene takes place in a church, Sly revealed that Willis portrays the one who hires his mercenary group for the death-defying mission, while Schwarzenegger stars as his character's old rival. Describing the scene in more detail, the 63-year-old gushed, "Bruce says 'Well, there's one other person I want to talk to before I hire you. And then Arnold, who plays my old rival, walks in."
"We have a history together," Sly continued explaining the fall-out his character has with Schwarzenegger's. "And we go back and forth and I tell him that I should have shot him a long time ago when I had the chance. Then it goes on from there. And here we are, the three of us trying to man up to one another, playing off of who we are, using our baggage in this one scene."
While the appearance of both Willis and Schwarzenegger is categorized as cameos, Sly went on to state that it may last for "about 5 minutes of screen time." On the short 6 hours of shooting for the scene, the actor recalled, "We only had them for that one day and then Bruce had to go off to Istanbul and Arnold had to go back and do his governmental stuff. But I was impressed because they got up at 5:30 in the morning to do this."
Prior to Sly's comment on the scene, a written description on where the filming took place and how it went had been posted at Ethelmae's Blog. The set was set up "in Hollywood at the Hollywood Presbyterian church on Gower, which is about a 35 minute drive from Hermosa Beach", part of the report read. "Bruce looked amazing - very fit, beautiful bald head and that smirky smile...Arnold had a stogie in his mouth, a giant watch on his arm and was constantly making jokes."
"The Expendables" centers on a group of mercenaries hired to infiltrate a South American country and overthrow its ruthless dictator. Soon after their mission begins, the group led by Barney Ross realizes things aren't quite as they appear and finds themselves caught in a dangerous web of deceit and betrayal.
Jason Statham, Jet Li, Mickey Rourke, Steve Austin, Dolph Lundgren, Brittany Murphy, Charisma Carpenter and Randy Couture are among the star-studded cast ensemble. It targets a U.S. release on August 20, 2010.