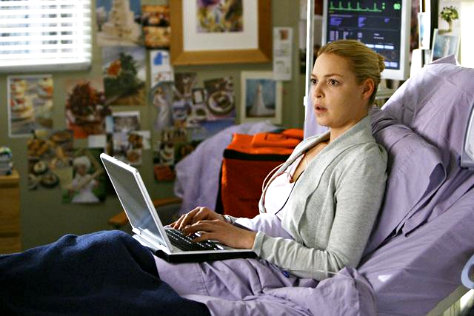 After a long wait, "Grey's Anatomy" will return on Thursday, April 23 and its preview has been given. Among the highlighted ones are Derek telling Meredith that he wants to spend the rest of his life with her, Owen versus Alex and Izzie passing out.
As she endures aggressive treatment for her cancer, Izzie throws herself into planning Derek and Meredith's wedding. Callie introduces Arizona as her girlfriend to her disapproving father, George excels in a trauma emergency when Alex freezes, and Owen seeks help with his PTSD.
The subject of a wedding has been circling the show for sometime with the latest rumor saying that Mer-Der's wedding is not the only one. The crew had filmed a wedding scene in Los Angeles on Wednesday, April 15 and some sources said that it was Katherine Heigl's character Izzie that was wearing wedding dress under her coat.
To Watch The Sneak Peek Click here.