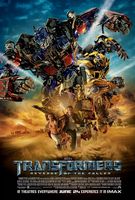 "Transformers: Revenge of the Fallen" could be having a powerful warrior of their own to face their newest enemy, Devastator. According to IESB, the Autobots will have "their own answer to the evil Devastator in the form of Superion".
Explaining about the new Autobots, IESB detailed that Superion is made out of five Aerialbots; leader Silverbolt, small but fierce Airazor, easily distracted daydreamer Fireflight, aerial strategy expert Skydive and reckless dive-bomber Air Raid. The five teammates form Superion to destroy any Decepticons they encounter and protect any innocent bystanders nearby.
On related news to Autobots, Latino Review has pointed out that the silver Chevrolet Corvette Centennial Concept seen on the set of the action movie several times before is called Sideswipe. Sideswipe itself is one of the original Transformers introduced in the 1980s cartoon.
A sequel to blockbuster hit "Transformers", "Transformers: Revenge of the Fallen" will find Sam Witwicky and Mikaela Banes under attack by Decepticons because of something Sam has learned about the origins of the Transformers and their ancient history on Earth. While the baddies try to capture Sam to acquire the knowledge, U.S. military and an international coalition unite with Autobots to fight back the villains' attack.
Written by Ehren Kruger, Alex Kurtzman and Roberto Orci, it will see Shia LaBeouf, Megan Fox, Josh Duhamel, Tyrese Gibson and John Turturro reprising their roles, and Isabel Lucas, Rainn Wilson and others joining the cast. While the trailer is said to be debuted during Super Bowl on February 1, the movie itself will come out in the U.S. big screen on June 26.