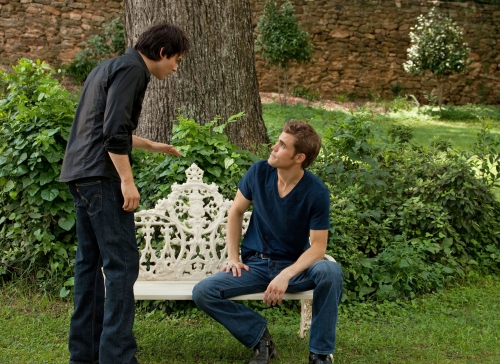 Who knew the little CW network could become such a player in Thursday's overcrowded TV battleground? All it took were a couple of hot vampires. (Something not lost on HBO these days, either.) Tonight's major TV event: the return of the addictively twisty The Vampire Diaries for its second season of "Bite me, Twilight" supernatural-romance angst
The Vampire Diaries packing what seems a season's worth of garish incident into the season premiere, much of the (bloody) juice springing from Nina Dobrev's effective dual star turn as good girl/fangfan Elena and her lookalike Big Bad vamp Katherine, who's returned to Mystic Falls to work all kinds of evil mojo. Or, as Damon puts it in what has already become one of the most-quoted lines from the episode: "Doppelganger high jinks ensued."
To Read More Click Here.