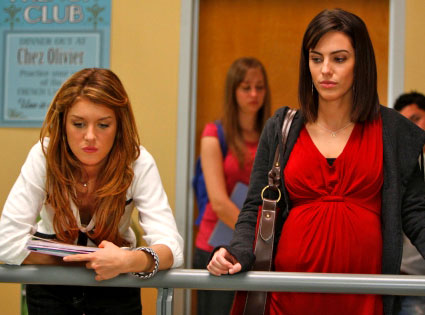 If the cast of 90210 knows what happens to Adrianna's baby, they're keeping a tight lid on the buzzed-about storyline.
"Whether Adrianna (Jessica Lowndes) keeps it or not, we still don't even know," Maeve Quinlan, who plays Adrianna's mom, insisted to us at this weekend's World Poker Tournament Invitational at the Commerce Casino in Los Angeles.
There have already been rumors that Brenda Walsh (Shannen Doherty) adopts the newborn.
"I can't really say what [Adrianna] is going to do," Quinlan said. "But what you're going to be seeing…is what is happening mentally, her decision process. I think you're going to be kind of surprised with what happens with her decision."
For those not in the 90210-know, Adrianna is the resident drug addict in recovery. While there was a possibility that her baby daddy was supposed still-a-virgin Navid (Michael Steger), it turns out her impending motherhood was the result of a secret hookup with school hottie Ty (Adam Gregory).
Quinlan added, "I think there's a little surprise in there as far as who else wants to take responsibility of the baby."