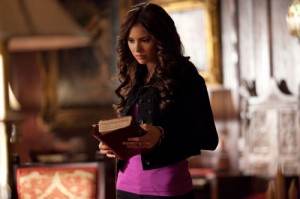 The Vampire Diaries showed in season one that flashbacks aid the story and this season is no different. These scenes flesh out issues of mythology as well as revealing motivations and events that play out differently to how we have been told previously.
This was highlighted in the opening sequence when the flashback we are seeing is not a memory but a dream of Stefan's implanted by Katherine to place doubt regarding his relationship with Elena and to further show his insecurities about Damon's intentions towards Elena. So begins the dance ofMemory Lane both literally (in the dream) and metaphorically between Stefan and Katherine. They are not the only characters playing games with each other as Damon and Mason are effectively dancing around their supernatural status for much of the episode.
To Read More Click Here.