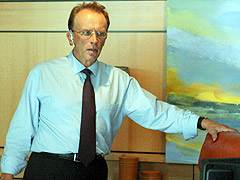 Peter Weller has had an enormously successful run with the Science Fiction genre. From the cult hit Buckaroo Bonzai to the iconic RoboCop, Weller always leaves behind an artistically sound crafting of character that dominates the mood and vibe of whatever he works on. No stranger to television, having played one of 24's most loved villains Christopher Henderson, Weller returns to the small screen this week in Fringe "White Tulip," airing Thursday April 15th at 9pm EST on FOX.
In the episode, Weller plays a …. spoiler alert …. time traveler who is trying to undo a past mistake. Coming back to television wasn't something Weller took lightly. "I have to tell you honestly I'm very discerning about prime time television guest stars [roles], a lot of it is entertaining but sort of hamstrung stuff. Fringe is unique. Fringe is the best that science fiction can be. It's fantastic, and it's entertaining, but at the same time it has a humanist theme to it of people, places, things, and relationships." Weller told a gathering of reporters on a conference call held this morning.
"It is rare that you see episodic television that has a four-page acting scene." Weller said, setting up the meatiness of his Fringe character. "It's a guy who is going back in time and he's making some serious sacrifices in terms of other people's livelihood and well-being, to get back to save his wife from dying in a ridiculous moment of a mistake he made. He's trying to find redemption, and go back to the only person who really means anything to him."
To Read More Click Here.