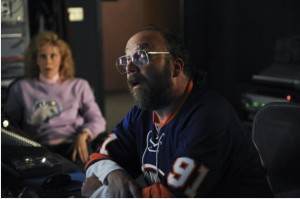 Earlier today, I was watching episodes from 30 Rock's first season on Netflix and it's interesting to see how much the characters have evolved over the show's five years. Tracy is at least making an attempt to be a responsible father, Grizz and Dot Com has bigger (read: speaking) roles, Liz and Jack have a stronger mentor-pupil relationship, Jenna is scarier than ever and the writers, Lutz especially, are becoming exponentially more sad.
In tonight's episode, Liz uses her new-found confidence to insure that the editing staff always have TGS in mind, Tracy attempts to be present for the birth of his daughter and Jack, now knowing the sex of his child, begins taping himself giving fatherly advice in case he's gone while she's growing up.
The better story arc in this episode is Liz dealing with an NBC editor played by Paul Giamatti, in one of the best 30 Rock cameos to date. The TGS staff need the opening titles finished immediately but the editors have never considered the show a priority. Liz turns on the charm, complete with a great Julia Roberts mouth-breathey cackle, and seems to have the problem solved until the head editor tells everyone in the building that they sleep together regularly.
To Read More Click Here.