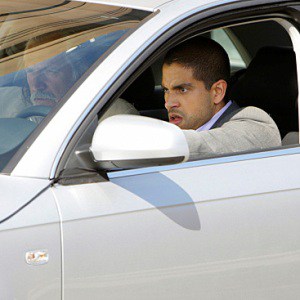 There was this minor tweak with the opening titles to last night's CSI: Miami that you might've missed, if you turned away for snacks when "Won't Get Fooled Again" started to play. Megalyn Echikunwoke's name isn't listed in the cast anymore, a reflection of last week's twist, when her character, Tara, was arrested for messing up with evidence. Suddenly, questions about the future of her character on the show have gone further up in the air. Sure, I think there's a big chance that she'll be back, perhaps to address questions about the origins of her drug addiction and her tangling up with the law, not to mention the fact that Kyle needs all the guidance he can get while working at the crime lab. Or maybe not.
But, as we'd later find out, it isn't really the biggest of our concerns. The most important question we'll have on the show, as we wait for the eighth season to kick in, involves someone whose name wasn't scrubbed off those opening titles: Adam Rodriguez.
While I knew Delko would get himself in trouble after helping his dad out, I didn't expect that decision's impact to power the first part, if not the whole, of the next season. A refresher: he's gone missing, after showing up on the other end--or the middle, depending on how you look at it--of a shootout between the Russian mob and the MDPD. The dad says he's bleeding, the result of being shot at by his own clueless colleagues. And then he lost control of the car, crashed--and disappeared.
The Russian mob story was, more or less, wrapped up after tonight, although closure is out of the question. There were the minor bits, from the supposed carjack victim to Yelina being endangered by her undercover work. That's all sorted out. The thing with Delko's thing is, there were as much questions before last night, as there were questions after.
To Read More Click Here.