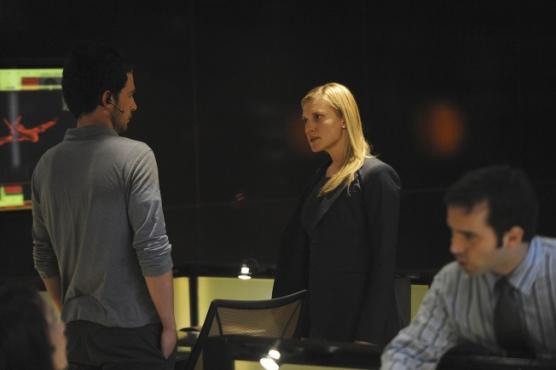 The following review takes place between 6:51 a.m. and 7:13 a.m. Words are written in real time...
This was one of the weaker episodes of season nine. For starters, far too much time was dedicated to Dana's weak B storyline.
Granted, any number of seconds is really too much to spend on yet another example of how terrible a screening process CTU has for its employees, but the 10 p.m. hour actually went to commercial twice on this development. The suspense of the ticking clock doesn't exactly build when the only thing at stake is Dana's job.
The show really needs to end this storyline or somehow tie it into the bigger picture, and soon. How many more weeks does it plan on going with everyone at CTU - Hastings, Chloe and Arlo - wondering why Dana is so distracted?
As for Renee, we'd have wagered a month's salary on her murdering Vladimir at some point, so at least 24 didn't drag out this obvious development for too long. We also didn't see her stabbing of Jack coming, so that made for a nice surprise.
His recoery didn't, of course. It's gonna take more than one knife wound to keep Jack Bauer down! It doesn't get much better than watching him remove a knife from his own body and fling it directly into the neck of a terrorist across the room.
To Read More Click here.