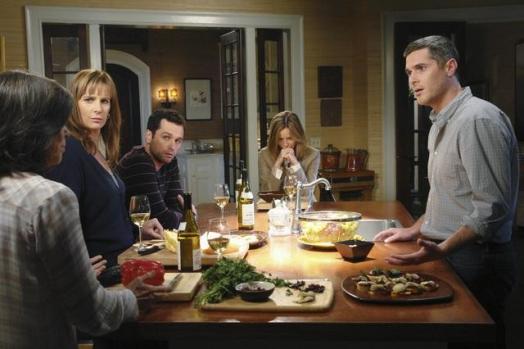 The fifth season premiere of Brothers & Sisters was supposed to reinvent the series via the much-touted flash forward. Instead, we often longed for flashbacks to earlier seasons.
Picking up one year after the accident, "The Homecoming" depicts the impossible: A shattered, despondent and wholly distant Walker family. Which was, of course, the point.
Where it failed was the execution. Some story lines seemed so sloppily thrown together, the time jump just felt unnecessary. Things changed either too drastically or not at all.
In fairness to a show we've enjoyed for years, it was a good opener ... or at least it could be. The jury's still out, pending future events. But we were not big fans of this episode.
The Walkers not communicating with each other felt out of place for a family who always does, which, again, was the idea. It just wasn't done in believable enough fashion at all.
On Grey's Anatomy, we felt the fallout from a similarly bloody, tragic finale so palpably. Tears, spontaneity, breakdowns, and a general confusion over how to react. Here, though?
It often made little sense and our favorite characters too out of character.
To Read More Click Here.