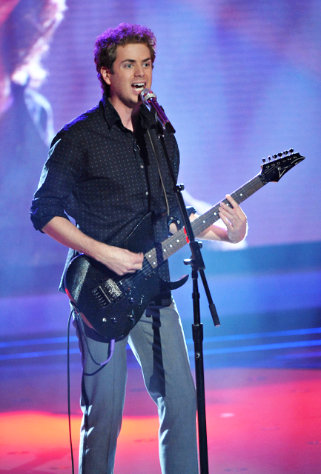 Scott MacIntyre is eliminated from "American Idol", leaving seven vying for the title. The contestant who has the eyesight like "seeing from a straw", sang his heart out for another chance but two of the judges won't use their power to keep him in the running. He was thus officially out of the line-up.
Being in the bottom three along with Anoop Desai and Lil Rounds, he got the lowest out of 34 million votes from the audience. He then reprised his performance of Survivor's "The Search Is Over" and made Paula Abdul cried. "You've been an inspiration to the entire world," Abdul said. "This was not the right song for you, but it doesn't diminish your talent. You are one classy gentleman."
The judges are allowed to vote whether they want to keep Scott in the competition or not. "Two people think you should stay and two people think you should go. This is really tough," judge Simon Cowell said on the verdict. "Someone's got to make a decision here, and I'm going to say it's the end of the competition. Sorry."
During the result show that was read on Wednesday, April 8, Flo Rida, Kellie Pickler and Frankie Avalon performed live.
Next week, the remaining seven will be singing tunes from movies and serving as the guest judge is director Quentin Tarantino. Additionally, Jennifer Hudson and Miley Cyrus have taped performances for next week's result show.