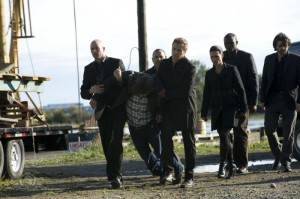 The crap hit the fan aboard the Destiny this week as a mole was discovered, which in turn vindicated my "dislike" for a certain character. Oh, what a glorious episode of SGU!!!
I Know Something's Going On…
Dr. Rush tosses and turns in his sleep while images from Earth bombard his dreams. The images include a deposit box with the number 314 on it, an abandoned warehouse with men and cars (looks like a meeting of sorts) and a sexy female (special guest star Rhona Mitra) in a car. Dr. Rush awakes and takes his dreams to Col. Young's office, where he tells the Colonel about the dream in more detail. Dr. Rush recounts giving information about the Icarus project with precision to the group of people and spotting a Goa'uld Tel'Tak (cargo ship) in plain view. Col. Young deduces that Dr. Rush was in contact with the Lucian Alliance, but Dr. Rush says that it wasn't him, because when he saw his reflection it
To Read More Click Here.