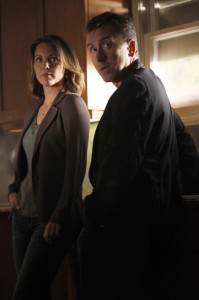 Did you miss me? It was less than a month ago that we were discussing the events of Lie To Me's second-season finale, and thanks to some unfortunate business (RIP Lone Star), the gang is back in their old time slot a whole month ahead of schedule.
When last we left, Cal was mourning the murder of old friend-slash-onetime lover Julie, while Ben was visiting the hospital after being shot saving Cal's life. Mekhi Phifer is, of course, no longer with us, but would his character survive? We'll get back to that, because Cal's swept up in a bank robbery attempt.
Thirty-six hours earlier, he's in a big hole regarding a book deal that he never made good on. That's how he ends up in the bank, where he picks up on someone (24's Shawn Doyle) not being quite right. You looking for someone or you just casing the joint? he asks, and he knows he's right as soon as the words leave his mouth. The two end up having a chat in a diner, where Cal plays the part of a disgruntled ex-bank employee who wants in on the action. Not the kind of thing Ben Reynolds would have ever condoned, to be sure. He then goes back to the bank to warn the branch manager of what he's just learned, where he's met with the usual skepticism, because where's the fun in people actually listening to the guy who's right most of the time?
To Read More Click Here.