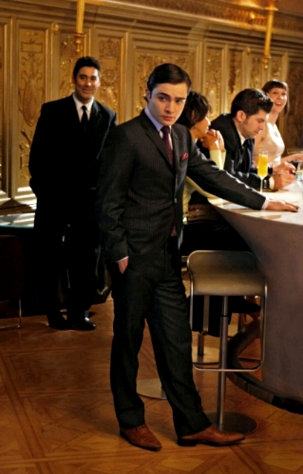 A scene from the upcoming "Gossip Girl" episode is clipped for a sneak peek. It shows Nate and Chuck coming out of a car together and discussing their rivalry over Blair. Nate is pissed that Chuck is going her way again, while he had a shot the last time and blew it. This was all because, Nate wants Blair bad.
The episode is called "The Wrath of Con" and airs May 4. On another story, Blair pressures Georgina into making amends for her past bad behavior by helping her in a scheme. Lily hatches a secret plan to help Rufus with Dan's college tuition.
Meanwhile, Kristen Bell, the voice of Gossip Girl in the series has begged to creator Josh Schwartz to be allowed appearing in front of the camera. She said, "I've pitched Josh Schwartz a couple of times for me to be on camera as a waitress or something but he wasn't buying it. But hopefully he'll change his mind in the future!"
To Watch The Clip Click Here.