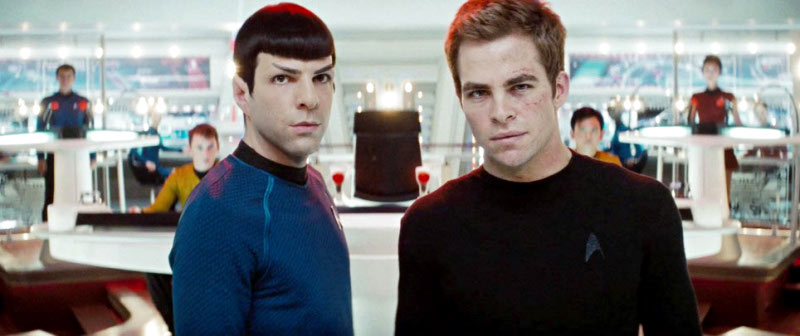 New plot details of the highly-anticipated "Star Trek" have been disclosed in the back cover of the film's novel adaptation. Providing an outline to the origins of both James T. Kirk and Spock and their early problems in life, the back cover synopsis also gives more on what actually Romulan leader Nero is seeking.
The plot summary first describes James T. Kirk, noting "One grew up in the cornfields of Iowa, fighting for his independence, for a way out of a life that promised only indifference, aimlessness, and obscurity." Then, it moves on with Spock. "The other grew up on the jagged cliffs of the harsh Vulcan desert, fighting for acceptance, for a way to reconcile the logic he was taught with the emotions he felt," so read the Spock's part.
Not stopping there, it continues, hinting on Nero's evil plan, "In the far reaches of the galaxy, a machine of war bursts into existence in a place and time it was never meant to be. On a mission of retribution of the destruction of his planet, its half-mad captain seeks the death of every intelligent being, and the annihilation of every civilized world."
The plot outlines are ended with a proclamation suggesting that completely opposite Kirk and Spock have to work together to bring Nero down. "Kirk and Spock, two completely different and unyielding personalities, must find a way to lead the only crew, aboard the only ship, that can stop him," the end part read. The novel is now available for pre-order via Amazon.
The eleventh feature film of the famed sci-fi movie, "Star Trek" revolves around Kirk and his fellow USS Enterprise crew members during their years at Starfleet Academy. It stars Chris Pine, Zachary Quinto and Eric Bana as Kirk, Spock and Nero respectively. They will be supported by Zoe Saldana, Karl Urban, Simon Pegg and many else. While this J.J. Abrams-directed movie is set to open in U.S. theaters on May 8, its trailer will be premiered on Friday, March 6, attached to "Watchmen".