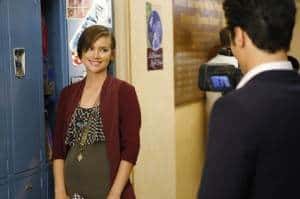 Tonight, 90210 had revelations galore tonight as the respective storylines hit a boiling point, pitting our West Bev gang into the next phase of what could be a tumultuous senior year.
Silver Regains Her Brain Power
Did anyone else smirk (or rolled their eyes in a Thank GOD! fashion) when Silver finally put two and two together about Cannon? It was like Silver finally took her aspirations to be an journalist to heart and actually used the talent the Good Lord gave her. I was hoping that she had of given Cannon a piece of her mind to let him know that he'd been caught. However, Silver ran to Naomi, the source of her new unease with Mr. Sleaze, and found her dear friend slumped over after an apparent suicide attempt. How long will it be before these two take Mr. Cannon down? And most importantly, who will believe them?
To Read More Click Here.