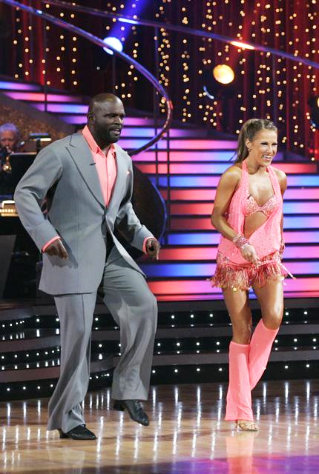 Former NFL star Lawrence Taylor ended his run on "Dancing with the Stars" after getting the lowest combined vote of the judges and the audience. He however, left the dance floor smiling that host Tom Bergeron called him a terrible actor in hiding his excitement to go back to his golf course.
Asked whether he could use some of the moves learned and put it in practice in real life, Lawrence said, "I don't know where the hell I'm going to use it." His partner Edyta Sliwinska then said that she would like a golf training in return.
Lawrence performed the waltz on Monday, April 20 and the judges thought there were some mistakes made although he seemed to enjoy the dance. He received 21 out of 30, the lowest score after Ty Murray's 24.
On the result night, Sanjay Gupta appeared to report on what the dancing has done to the contestants' health. He said Lil' Kim had lost 2 inches from her waist, Lawrence has shed 15 pounds and Gilles Marini's resting heart rate is down to 36 beats per minute.
Among the guest performers of the night was Natasha Bedingfield who sang "Soulmate" to accompany the dance by Lacey Schwimmer and Dmitry Chaplin. Another was Celtic Woman with "You Raise Me Up" that led the dance by Eric Luna and Georgia Ambarian.
Also highlighted was the contest for professional dancers that will be guaranteed a spot in next season. Audience were allowed to vote among three couples, Afton DelGrosso and Brent Borbon; Anna Demidova and Mayo Alanen; and Snow Urbin and Genya Mazo.