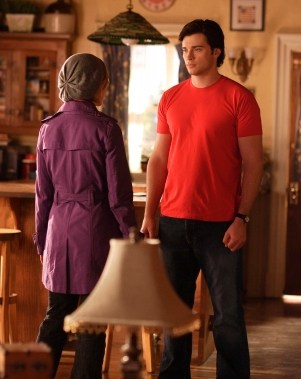 Previously on Smallville: Lana was put into a coma by Brainiac, and as soon as she recovered, she fled the country so Clark could do his work without her as a distraction. Tess Mercer learned Lex was using her as a camera, so she vowed to destroy him and his business.
At LuthorCopr, a mad scientist tests an experimental procedure on a human that will hopefully save Lex's life. The scientist orders a "transdermal evisceration� and a body in a water tank is set on fire. The body isn't Lex's, however, it's Lana (Kristin Kreuk)!
Chloe (Allison Mack) visits Clark, who is so depressed he's rewatching Lana's break-up tape. He's trying to remind himself why Lana leaving is a good thing, even though he still wants to be with her. Dude, you're the Man of Steel, stop boo-hooing over some chick.
Clark (Tom Welling) heads off to visit Lana, but her apartment is destroyed and Tess (Cassidy Freeman) is there, expressing concern that Lana was taken because she was snooping into Lex's life. Tess lets it slip that this isn't the first time Lex has abducted Lana. In other words, Lex's goons forced Lana to film her break-up tape before taking her away to one of their compounds after she woke up from her coma last season.
For Full Recap Read Here