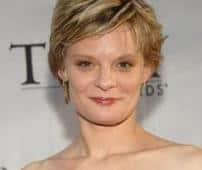 Martha Plimpton, whose breakthrough performance was in the 1985 feature film The Goonies as the character Stef Steinbrenner, has signed on to join the cast of Grey's Anatomy for its sixth season. According to the Hollywood Reporter, the 38-year-old actress will play the mother of a young patient and will appear on multiple episodes.
As mentioned before, producers are eyeing a bunch of people to cast for the season opener of Grey's Anatomy. If previous reports are correct, Plimpton will fill in the role of Pam, mother to 18-year-old male patient, Andy Smith. There's no word yet on who will fill in the role of her son.
Plimpton, who has been repeatedly cast in the role of a rebellious tomboy for several years, began her critically lauded performance as the Reverend Spellgood (Andre Gregory)'s daughter in the 1986 film The Mosquito Coast starring Harrison Ford. It was on the set of this film that she met her future real-life love interest, River Phoenix. Eventually, she started what became a career trend, mixing small independent film appearances with supporting roles in big-budget films.She also appeared in a featured role on the television sitcom Family Ties and as the female lead in the television film The Defenders: Payback. This year, she received a Tony nomination for her performance in Pal Joey.
Meanwhile, there have been talks that the new season of Grey's Anatomy might pick up a few months more after the tragic May finale but TV Guide's Matt Webb Mitovich assures fans that's not the case. The ABC medical drama will still resume on September 24 and will find both Izzie and disfigured George still coding. He also emphasizes that "over the two-hour premiere, watch for the outcome of this traumatic scenario to weigh heavily on a lot of people -- including at least one doctor whose reaction you may have taken for granted."