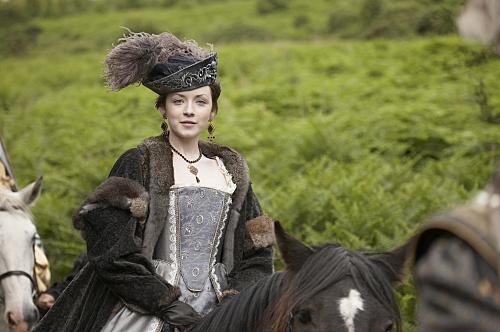 It is becoming clearer and clearer that King Henry is seriously confused when it comes to his relations with women. As made evident last night, he hates who he's married to and covets pretty much anyone who is not his wife, even when one of these coveted women is his former wife.
He's like that mean guy you dated in college who seemed head over heels in love with you for the first few dates you had.. and then instantly cooled off and never called you again. Perhaps the King is somewhat like every man Jennifer Love Hewitt seems to date - only he actually marries his ladies of the moment while poor J. Love can't seem to get a dude to commit.
This is what is happening now to Queen Catherine. The King is hot/cold with his ditzy 17-year-old wife. Sometimes he tosses jewels in her direction and invites her into his bed and other times he looks at her with irritation and ignores her. He was especially pissed when Catherine told him she might be pregnant and then found out she wasn't. This earned her several days of silent treatment and grouchy sneers from her hubby.
The guy should give her a break; pregnancy detection methods weren't exactly a sure thing back then.
To Read More Click Here.