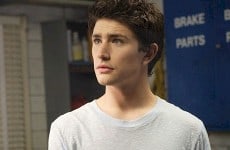 While ABC can't bring Kyle XY back from the dead, fans can still catch Matt Dallas as he lands yet another show on the network. According to Eonline.com, the 26-year-old actor has been cast as a "hot, young love interest for Rebecca Romijn on Eastwick."
A TV adaptation of the 1987 movie entitled The Witches of Eastwick starring Michelle Pfeiffer, Susan Sarandon, and Cher, Eastwick is a drama series set to air on ABC this fall. Aside from Romijin, Lindsay Price and Jaime Ray Newman will take the center stage as women whose lives are about to change when a mysterious stranger arrives in town and bestows unique powers in them. Also featured on the show is Paul Gross (Daryl Van Horne), a potential love interest for one or all of the ladies.
Since ABC canceled Kyle XY, Matt Dallas has been busy filming the movie As Good as Dead, a horror thriller about a left-wing extremist who goes on the run after killing the reverend behind a white supremacist group. The movie, which stars Andie MacDowell and Carly Elwes, is expected to hit theaters later this year.
In addition to Matt Dallas, who is also credited for his work on Babysitter Wanted, Living The Dream, Wannabe, Camp Daze, Way of The Vampire and HBO's Entourage, Cybill Shepherd has also signed on to join the cast of Eastwick. She'll recurrently appear as a former witch who has become a reclusive cat lady. Fans remember Shepherd as Jacy in The Last Picture Show, Maddie Hayes in Moonlighting, Cybill Sheridan in Cybill, and as Betsy in Taxi Driver. Most recently, she also appeared on Psych, Criminal Minds and The L Word where she played Phyllis Kroll.
Eastwick will premiere on September 23 at 10pm ET, following the results show for Dancing with the Stars.