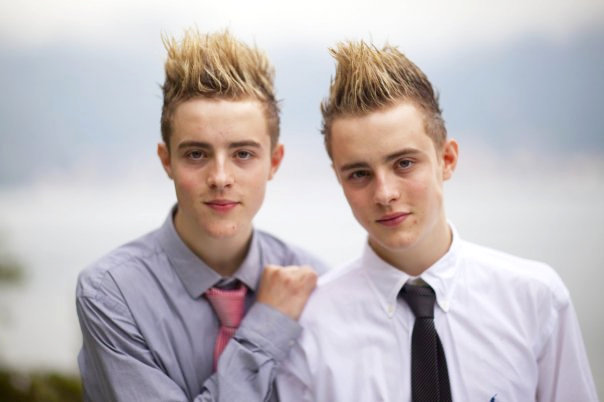 Casting news continues coming from "The Hobbit". After Peter Jackson revealed three "Lord of the Rings" stars who are going to return for the upcoming adventure film, Warner Bros. Pictures is reportedly considering two stars of British "The X Factor" to take the roles of dwarf twins, Fili and Kili.
According to U.K.'s Vexed Magazine, manager of the reality show Louis Walsh has been in talks with Jackson's people about two of the show's finalists, John Grimes and Edward Grimes, to join a celluloid screen test in Los Angeles. If the rumor is true, the twin brothers could be seen playing Fili and Kili in the movie.
John and Edward aka Jedward became famous after appearing in the sixth series of "The X Factor" though they were eliminated from the competition on November 22. Before being linked to "The Hobbit", the 18-year-old Irish guys have been rumored to be playing the Crayola Kids in forthcoming "The Mighty Boosh" movie.
Recently, Peter Jackson said, in addition to Ian McKellen who has been confirmed to reprise his role as Gandalf in "The Hobbit", there will be two other "Lord of the Rings" actors who will return for the forthcoming film. "There's a couple of other characters: Elrond, who was played by Hugo Weaving [in the original films] and there's a possibility of Galadriel, who was played by Cate Blanchett," he stated.
"The Hobbit" will re-create the scenes of the novel, with additional events that make an impact to "The Lords of the Rings", such as the expulsion of Sauron from Mirkwood by The White Council. The first of the adventure fantasy movie is scheduled for December 2011 U.S. release, while the second film, "The Hobbit 2", is expected to hit theaters a year later.