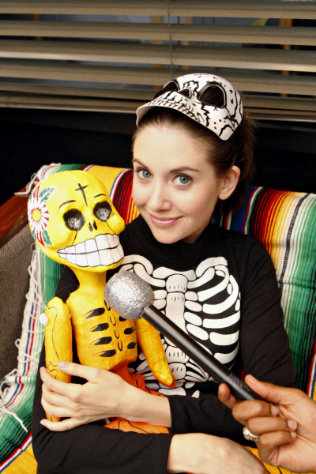 What did you think of tonight's episode of COMMUNITY, "Introduction To Statistics"?
After a couple weeks of just so-so attempts from Community, all is now forgiven. "Introduction To Statistics" was my favorite episode so far this season. All the characters were equally funny and every scene provided a large amount of laughs. There was even a rare serious moment when Shirley began speaking about her ex that I thought was touching. Here are some ofmy favorite moments and quotes from "Introduction To Statistics":
"Hey, you in the skirt...date me" Jeff
"Are you trying to get formidable with me"? Jeff
Britta's squirrel costume - I loved the acorn
Shirley's Erkle/Harry Potter costume - actually Shirley in general was awesome tonight. Her British accent was so funny.
"Saddle Up, Fruit Pie" Pierce
Abed's Batman impression
Senor Chang as a matador
I also loved the scene where the crew crashed the faculty party. Everyone did a great job of blocking Jeff's chance with the professor. Jeff getting assistance from Senor Chang was definitely unexpected and hilarious. Speaking of Senor Chang, I actually did a search online for "Mexican Halloween" after the show ha-ha. I didn't find anything interesting.
So here's a question. Out of all the characters, who had the best costume? I'm going to have to go with Pierce. If for no other reason then because he looked so awesome in that slow motion tripping scene at the party. I'll give the runner up award to Abed because he stayed in character all night and an honorable mention to Britta for not using Halloween as an excuse to dress like a ho.