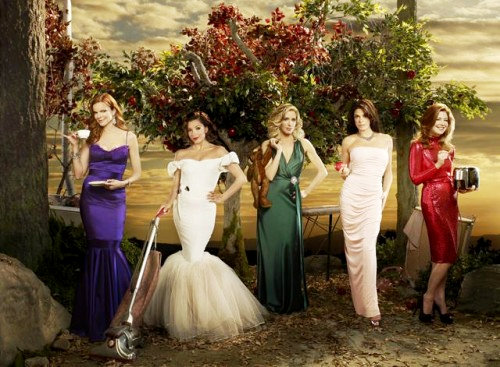 The women of Wisteria Lane are dressed in gowns for the new promo pic of "Desperate Housewives". The first official shot from the series' sixth season shows Bree Hodge holding a teacup and saucer, Gabrielle Solis holding a vacuum cleaner, Lynette Scavo holding a stuffed bear, Susan Mayer holding the iconic apple, and Katherine Mayfair holding a toaster.
The sixth season of the comedy series will premiere on September 27 at 9/8c with the episode "What Wedding, What Way". Through the onset pics released in the last few months that show Teri Hatcher and Dana Delany in wedding gowns, it is presumed that either Susan or Katherine will get wed by James Denton's Mike Delfino this season.
On another news, the promo campaign of season 6 will make use of Shakira's new single "She Wolf" which comes from her October album of the same name. Shakira's music video will be cut and mashed with the scenes from the new season. However, it is still unclear when this promo will be released.