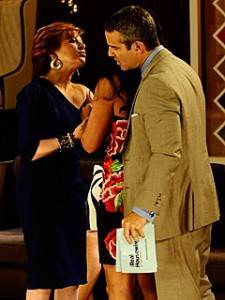 DING! DING!
The showdown we have all been waiting for commenced during the taping of The Real Housewives of New Jersey reunion as Danielle StaubGoblin Staub and Teresa Guidice had a physical altercation that required producers to break them up. Luckily, Kim Kim G Granatell, Danny the Goon, and none of Danielle's Mob Squad were there to break it up.
People Online has released photos from the taping, which has had the blogosphere and RHONJ fans itching to see the finished product by it's August 30th air date. One photo shows Caroline Manzo, the show's official matriarch, and Bravo's Andy Cohen holding Teresa back from attacking Danielle, while another photo depicts a shouting match between the dueling divas as a hapless Cohen watches in bewildered concern.
This might be the best reunion we have ever done, Cohen told People Online and went on to say that we wouldn't believe how it began OR ended, which is the same thing Teresa tweeted a couple of weeks ago. Hmmm, no wonder Andy Cohen is chilling overseas some where. He most definitely needed it and earned it in my book. . .
To Read More Click Here.