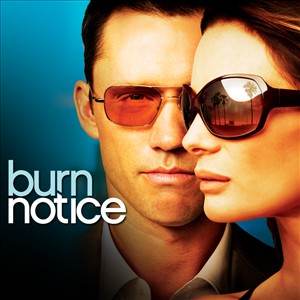 Last night's Burn Notice was so good, I watched it twice. Both on the East Coast and West Coast feeds. It's still on my DVR and in the back of my head. I wrote a lengthy recap that I thought covered all my bases but I was wrong. The more that I thought about it, the more I realized it was still worth talking about - as is the season, which might be the best yet.
Allow me to explain: I am a devoted Burn Notice fan, and I have been from the pilot. I've seen every episode, usually multiple times. Yet something happened around the third season. It's not that the show declined in quality, but other things came around and I found myself watching more on DVR, and I'm one of those traditionalists who believes in making time to watch all my favorite shows live. This season, I haven't missed an episode live, usually twice. Some have sat on my DVR for weeks because I loved them, or parts of them, too much to delete them. The show's been satisfying to me as a fan, as a writer, and as someone with a background in the real-world element. This, of course, begs the question: what about this series has gone so right? 'Blind Spot' has everything, so it's a perfect example to call out.
To Read More Click Here.