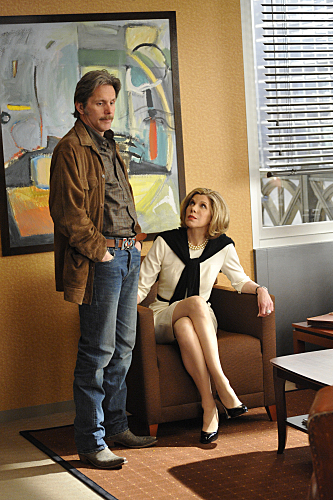 Just when we thought The Good Wife couldn't get any better...
On "Doubt," the show took us inside the jury room, giving viewers a chance to see what deliberations look like. We've never been on the jury for a major case of this nature (has any reader been?), but it's safe to assume the producers did their research.
We've always wondered how questions or pieces of evidence that the judge tells the jury to dismiss or ignore can actually be dismissed or ignored. The answer, according to this episode? They can't be. These are just human beings, after all. If a lawyer poses an inquiry, just to cast doubt in the minds of the jurors, it's likely to be successful, even if an objection is sustained.
Which brings us to Will. He's a great character because he's so multi-layered. This is not your ever-ethical attorney. He believes in the law and he fights for his clients. Even if he doesn't know if they're innocent. The tactic he used this week - of trying to soil the reputation of an officer - might come across as unseemly on a show that's trying to paint its characters as simple, always-do-what's-right individuals.
To Read More Click Here.